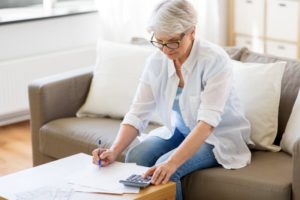 Many patients have difficulty fully understanding their dental insurance. The unusual verbiage, complicated wording, and detailed breakdown of coverage can easily leave people frustrated and looking for help. Fortunately, many dental practices have insurance experts on staff who can help answer questions and address confusion. They can help clear up the specifics that come with the financial side of dentistry. Read on as your local dentist strives to minimize your inquires about dental insurance and explain the general breakdown of coverage you can expect from most insurance companies.
What Dental Insurance Will Cover: Preventive & Restorative Care
When reviewing the details of a traditional dental insurance policy, a patient can typically expect to see the percentage covered of two types of dental services: preventive and restorative. The majority of dental insurance plans agree to cover 100% of the cost of preventive care. This emphasis on minimizing oral health problems from the start encourages patients to be proactive about their care. Preventive dental treatments typically include general exams, cleanings, dental X-rays, and fluoride treatments.
However, since sudden injuries or problems have the potential to arise at any moment, most dental insurance companies agree to pay 50-80% of the cost of minor and major restorative services. Generally, this includes services like dental crowns, bridges, fillings, tooth extractions, root canal therapy, and periodontal therapy.
Dental insurance coverage for these services often revolves around a patient's deductible and maximum. A deductible is the set dollar amount a patient must pay for their own dental care before their dental insurance coverage kicks in. From there, the dental insurance company will pay percentages of their care up until another set dollar amount called the maximum
What Will Dental Insurance Not Cover?
People who are looking to boost their appearance and confidence with the help of cosmetic dentistry will be displease to hear that dental insurance does not cover cosmetic treatments. Dental insurance focuses on covering the cost of treatments that are essential for a patient's health, such as fillings or dental crowns. Meanwhile, cosmetic services like teeth whitening and veneers are elective and not necessary for the patient's ongoing oral health.
This means that paying for the cost of cosmetic dental treatments is the responsibility of the patient alone. Fortunately, many practices offer solutions for patients who do not want to pay the full amount up front. Options like flexible financing and in-house savings plans can help keep the cost of cosmetic dentistry low.
When meeting with a dentist in Lockport to go over an upcoming treatment, patients are encouraged to also speak with a member of their dental team who will review which services are covered by their dental insurance. This will help individuals make a well-informed decision about how to best take care of their oral health.
About Grand Dental – Lockport
Grand Dental – Lockport is proud to have a highly skilled team of dental specialists who are dedicated to offering affordable, high-quality dentistry. When presented with treatment options, our team can identify the best ways to maximize dental insurance benefits and minimize out-of-pocket expenses. Patients who are interested in learning more about their dental insurance plan and what they can expect to be covered are encouraged to reach us at our website or call (815) 836-0001.