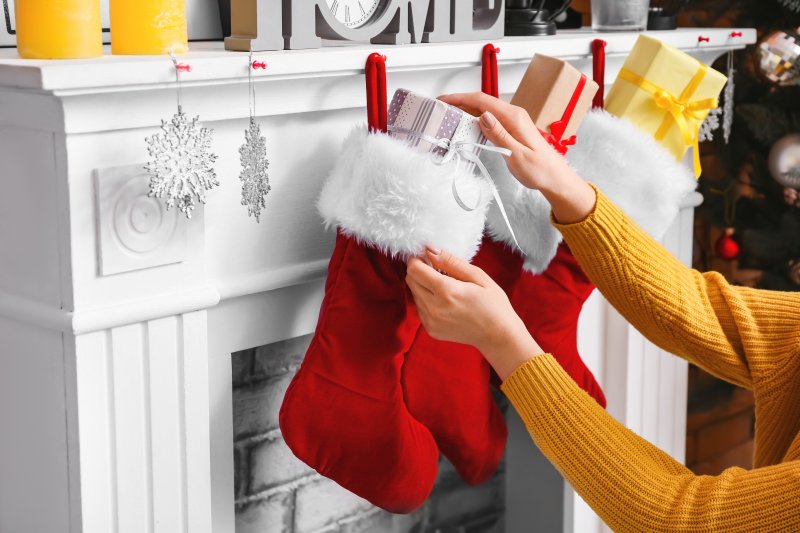 Gifting family members and friends can become harder and harder each year. Knowing what to buy isn't always easy. If there is someone who loves candy, it might seem like an easy choice when filling their stocking, but if the desire is to prevent cavities, it's important to consider alternative options. A dentist in Lockport is here to explain how one can make it through the season without developing a cavity-stricken smile.
The Dangers of Candy
Consisting of harmful, processed sugars, candy adheres to tooth enamel, making it easy for bacteria to feed upon. Once acids are produced, they eat away at the outermost layer of the tooth, causing a small hole to form – a cavity.
Although fine in moderation, candy of all kinds (i.e., sour, gummy, hard, chocolate) can lead to plaque and tartar build up that breaks down and eats away at tooth enamel. Over time, if left untreated, it can worsen, resulting in the need for dental fillings, for dental crowns, for root canal therapy, or for tooth extraction.
Cavity-Free Stocking Stuffers
If family members and friends want to avoid a trip to the emergency dentist's office and instead, maintain a healthier smile when starting 2023, here are some stocking stuffer ideas to help facilitate their desires:
Gift them with a new toothbrush. Whether it is manual or electric, a new one will help them to start 2023 with a better grasp on how to better care for their smile.
Add in dental products. From flavored toothpaste and floss to a water irrigator that makes flossing easier, incorporating these gifts as part of their stocking stuffers will give them the set up they need to embrace better oral hygiene.
Share the love with a gift card. If teeth whitening or another similar treatment is something a family member wants, consider easing the financial burden by purchasing a gift card or being willing to pick up the tab.
Add healthy snacks as opposed to candy and chocolate. A few little bites here and there are fine, but oral hygiene must be practiced correctly to prevent damage to one's smile. Swapping out these sweet treats for nuts, for raisins, and for sugarless gum will reduce the risk of tooth decay while still putting a smile on their faces.
Give them the gift of a healthier smile in 2023. By incorporating these ideas into their stockings or as wrapped items under the tree, they can avoid seeing their emergency dentist and instead, enjoy more time spent with family and friends.
About Grand Dental – Lockport
Grand Dental – Lockport is proud to have a highly skilled team of dental specialists who are dedicated to ensuring the health and well-being of patients' smiles in 2023. To avoid cavities during the holidays, our team can recommend helpful gift ideas that will not only invoke happiness but also keep decay and gum disease at bay. Reach us at our website or call (815) 240-8803 to find out more.