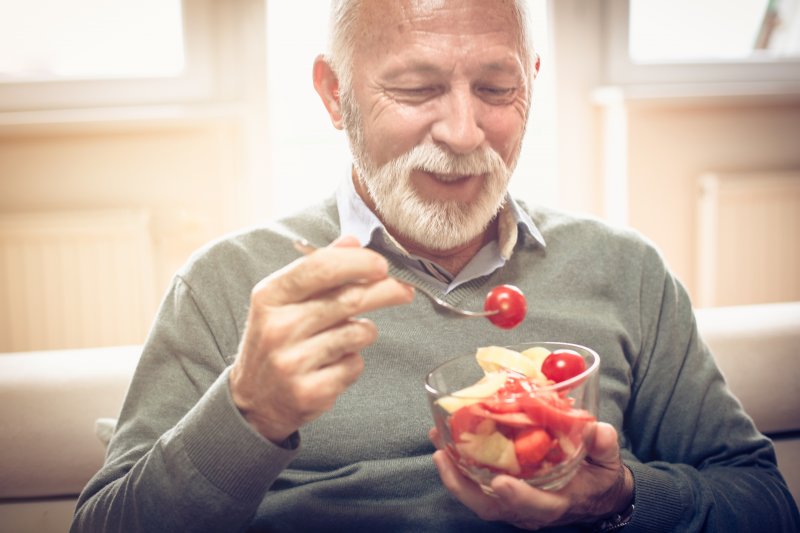 Patients who are receiving dentures for the first time may appreciate the ability to enjoy a complete smile once again, but they might begin to wonder if these prosthetics will make it harder to enjoy certain foods. The question many dentists receive is, "Can dentures affect my taste?" To find out the answer, read the following article, as it explains what individuals can expect when eating with dentures.
Is It Possible to Taste Food While Wearing Dentures?
Whether it is a partial or full denture that a patient wears, eating is an important part of daily life. Naturally, no one wants to lose the ability to taste delicious foods, but the savory and sweet options that surround us may lack the fullness of flavor when eaten with the help of dentures.
Although losing the sense of taste is not something that normally happens, it is common for individuals who wear full dentures on the upper arch to experience less flavor when enjoying a meal. The reason is that much of a person's ability to taste and smell is connected to the palate of the mouth. Combine this with the reality that as a person ages, they begin to lose their taste, and it's easier to see why so many begin to use salt and other additives to enhance the flavor of food.
There is also the potential that if dentures are not cleaned correctly, bacterial accumulations can lead to a lack of taste.
How Can This Impact a Person's Overall Well-Being
Being unable to taste the food a person eats can become problematic if left unchecked. Apart from the reality that it can cause individuals to miss valuable nutrients for the body, it can also lead to serious health conditions such as diabetes, heart disease, and osteoporosis.
By forgoing home-cooked meals and instead, eating fast food that consists of high amounts of salt, fat, and sugar, individuals can begin to experience more problems forming inside their mouths and throughout their bodies.
What Can Be Done to Regain a Sense of Taste?
Although there is not much that can be done to stop the aging process, there are some steps patients can take to avoid further loss of taste, such as:
Making sure dentures are thoroughly cleaned and free of any bacterial buildup
Use only a small amount of denture adhesive when attempting to better secure dentures, as these products can affect the taste of food if too much is applied
Talk to a dentist about making sure prosthetics fit well and are not loose inside the mouth
Consider an alternative option to dentures like dental implants, as they do not cover any areas of the mouth that help in the detection and tasting of food
Of all the senses humans have, many find that taste is one of the most important. Food is what brings people together, and the array of flavors can bring much enjoyment to a person's life. If dentures are making it hard to savor meals with family and friends, consider the available options to help improve your quality of life.
About Grand Dental – Lockport
At Grand Dental – Lockport, our team of professionals believes in helping patients enjoy daily life with healthy, beautiful smiles. Offering dentures to those with missing teeth, we can help to rebuild and restore confidence as well as make normal activities easier than before. However, if tooth replacement solutions become problematic over time, we can also discuss alternative solutions and deliver effective tips to improve the situation. Visit our website or call (815) 240-8068 to learn more.