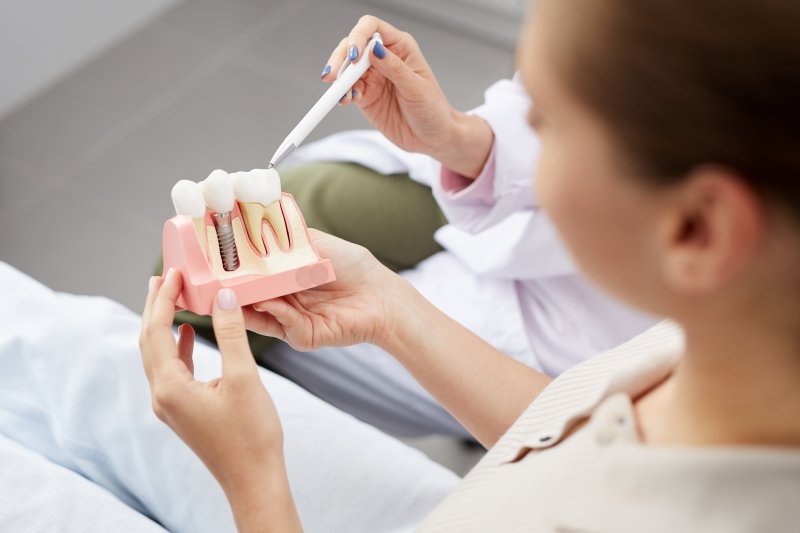 After having missing teeth replaced by dental implants, you may begin to wonder if you might suffer from some of the same oral health problems as before. Tooth decay, cavities, and gum disease are all possible issues that people face when living with natural, healthy teeth but what about artificial ones? Can dental implants get cavities? Having a clear understanding of what you can do to take better care of your new smile will ensure that it remains in place for as long as possible.
How Do Cavities Form?
There are many reasons cavities can form, including poor oral hygiene, consuming too many sugary and starchy foods, drinking highly acidic beverages, and even genetics. As bacteria spread, they produce harmful acids that break down the outermost layer of a tooth (the enamel). This ultimately causes a small hole to form, which is known as a cavity.
Is There a Risk of Cavities Forming While Wearing Dental Implants?
Because the base of dental implants is made of titanium, and the restorations are commonly made out of porcelain or zirconia, these artificial teeth can't develop cavities. Bacteria cannot penetrate this material like they can tooth enamel simply because it is not porous.
However, this doesn't mean that you can neglect your oral hygiene routine while wearing dental implants. These prosthetics can be negatively impacted by what is known as peri-implantitis, which is similar to gum disease. If bacteria attack the soft oral tissues surrounding your implants, they can cause the bone to weaken and artificial teeth to become loose. This can lead to problems with your new smile and its future success.
What Can You Do to Avoid Peri-Implantitis or Tooth Decay?
Although tooth decay can only occur in natural teeth, it's still important that you take proper care of your smile whether you have only a few dental implants or an entire mouthful. To ensure the future of your real and artificial teeth, make sure that you:
Continue to practice good oral hygiene habits, such as brushing, flossing, and rinsing daily (preferably brushing and flossing after every meal)
Keep seeing your implant dentist every six months for regular checkups and cleanings, as these will ensure that your artificial teeth are not damaged or experiencing a bacterial attack
Avoid using your teeth as tools, as this can cause significant damage
Adopt healthy eating habits to minimize the risk of bad bacteria forming and causing cavities to form in healthy teeth or gum disease to impact soft oral tissues
While you do not need to worry about cavities forming on your dental implants, you'll want to make sure you're taking proper care of your new teeth if you want a smile that lasts for decades.
About Grand Dental – Lockport
At Grand Dental – Lockport, our team of experts is pleased to offer dental implants as a reliable solution to tooth loss. As durable teeth that are designed to last decades if not a lifetime, they offer an array of benefits to individuals who desire a longer-lasting smile with minimal maintenance. Visit our website or call (815) 240-8068 to find out how you can take advantage of these prosthetics and what you can do to keep them in optimal shape year after year.